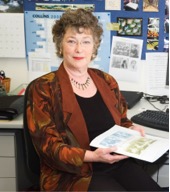 Professor Kay Morris Matthews, Research Professor, EIT
Tuesday 3 December, 6pm
Room R101, School of Viticulture and Wine Science, EIT,
501 Gloucester Street, Taradale
Cost: $10 a head for drinks and nibbles; pay at the door (cash please). To secure your place, please email: secretary@hawkesbay.rsnzbranch.org.nz
From 1874, large numbers of Pākehā settlers travelled to the Athenaeum in Napier to attend monthly lectures of the Hawke's Bay Philosophical Institute (HBPI). They came to listen, learn, take part in discussions and meet up with others interested in a range of subjects. In the main, those presenting their ideas and research were local.
Through and alongside the HBPI meetings emerged an inter-generational network of researchers, friends and supporters, both women and men. Drawing upon a range of primary and secondary sources collected during thirty years of research, the focus here is the behind-the scenes mentoring and the relationships between an inter-connected group who sought out and then shared new forms of knowledge. This celebratory tribute for the end of year features William Colenso, Henry Hill, William Spencer, Bessie Spencer, James Large, Amy Large, Frank Hutchinson, Herbert Guthrie-Smith, Georgina Guthrie-Smith and Barbara Guthrie-Smith.
Professor Kay Morris Matthews was raised in Hawke's Bay, and has held academic positions at the University of Waikato, the University of Auckland and at Victoria University of Wellington. Kay is now Research Professor, Education, Humanities and Health Science, at EIT.Kay's published research on William Colenso and Henry Hill has provided insights into their educational and research realms. Her current research, the biography of Anna Elizabeth Jerome Spencer, has led to a greater appreciation of the contributions of others involved in the HBPI, which from 1947, became the Royal Society of New Zealand Hawke's Bay Branch.